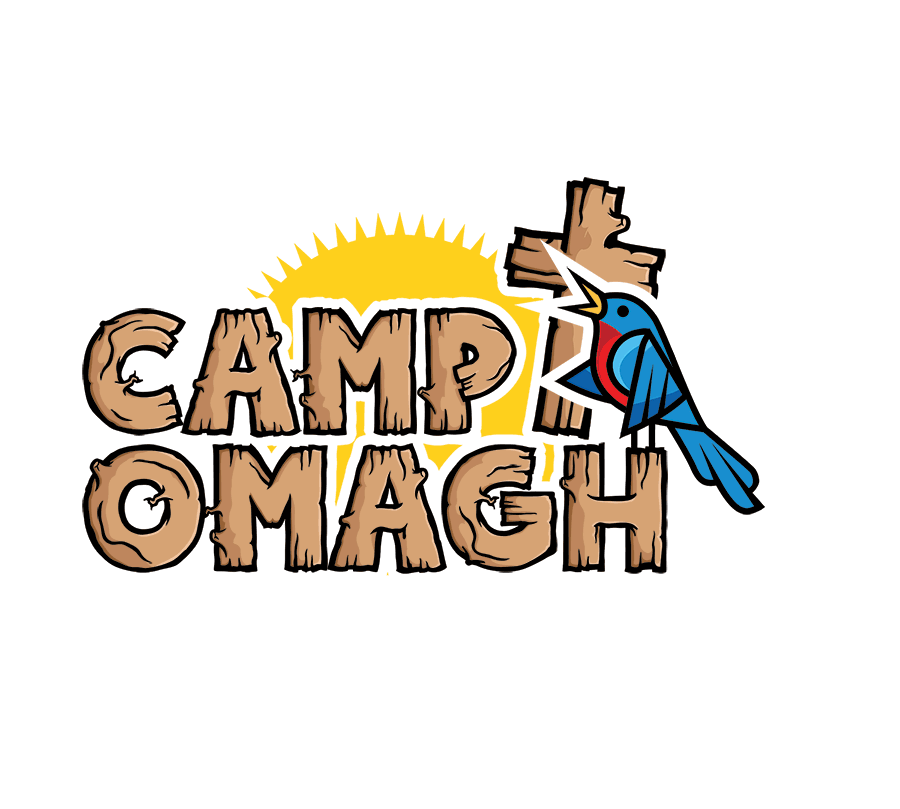 At Camp Omagh, Good Traditions Matter,
and Christian Values are Lived Out

At Camp Omagh, we aspire to create not only a place to get away, but also a formative experience that empowers campers to become their best selves, to help them navigate their complex world, and to discover God's love in a personal way.
What should I bring to Camp?
​
Bible, Notebook, Writing Utensils

Flashlight

Reusable water bottle

Insect repellent

Bedding

Sleeping bag or twin sheets with warm blanket

Pillow

​​

Bathroom

Towel

Toiletry items: soap, shampoo, toothbrush, etc. in unbreakable containers

Footwear

close toe shoes for activities​

flip flops for back and forth to swim house

extra socks

Clothes

Dress for the weather -

Rain or Shine/

​

Hot or Cold

heavy sweater or jacket

​

extra socks

8 pair underwear

laundry bag

There is a Camp Dress Code

​Swim suit

​no bikinis or speedo briefs

​​

​Shorts

Shirts​

must have

have sleeves, or straps with a minimum of 5cm width
must cover the midriff
No skin-tight or torn clothing. Please no logos or messages on clothing that promote alcohol or drugs, are offensive, crude, or demeaning. Dress code is MODEST. The Program Manager will exercise their discretion in determining the acceptability of all apparel
​
All items should be labeled with camper's name
Frequently Asked Questions
As parents ourselves, we know that camp is a significant investment for every family. That's why we're always here to discuss your child and answer any questions you might have about the Camp Omagh experience, from our tasty meal plans to our trained summer staff to questions about our Christian foundation.
​
Where is camp located?
The camp is located in Milton, Ontario on Lower Base Line West between Fourth and Fifth Line. For a detailed map click here.
​
Where can I find information for each of the camp programs?
Information on all of our programs can be found on the Programs page of this website.
When should we arrive at camp for registration?
Registration begins at 3pm on the Sunday of your week. No early arrivals, please. Prime Timers is the exception as they begin on Tuesday.

When should I arrange to pick up my child at the end of the week?
Campers should be picked up on Saturday between 9 and 10 a.m.
If your camper is attending back-to-back weeks, please note that our program structure does not accommodate campers staying at the camp for the weekend between sessions. Please make alternate arrangements as required.
​
Is there an extra cost for Tuck?
There is no need to leave extra money with your child because Tuck is included in the camper fee.

Are visitors allowed at camp?
Of course. However, you must check in at our Welcome Centre arrival with the program director/office assistant to get your visitor badge so that we know you are on campus and to arrange for payment and to pick up your meal tickets if you are staying for a meal.
Does Camp Omagh have a sponsorship program for campers?
Camp Omagh has a camper sponsorship program that is funded by the generous support of Corporation Members and other supporters. If you would like to request financial support, please send an email to registrar@campomagh.org.
Is the pool area supervised?
Yes, the pool is supervised by qualified lifeguards during all swim periods.
What is your cancellation policy?
Camp Omagh can cancel a program for any reason. Any monies paid by a registrant will be refunded in full if this happens. If a registrant cancels their reservation, there are no refunds.
Can my child request to be in a cabin with a friend?
Yes, many campers come to Camp Omagh with a special friend. We will do our best to honor one cabinmate request per camper Cabinmate requests must be mutual and are not guaranteed. Because new friendships are a significant part of the summer camp experience, we seek to assemble cabin groups that will allow new friendships to develop. Please submit your request when you register.
How are cabin groups arranged?
Campers are arranged in cabin groups by gender, age, grade and in some cases, consideration of cabinmate requests. There may be a one- or two-year age spread within a cabin. Counselors guide campers for the entire session. Some campers come to Camp Omagh with a friend, although many come to camp alone. We will arrange cabins in such a way as to encourage new friendships in cabin groups.
What happens when a camp session fills?
We begin a wait list. To assure a balanced program each session, there are a limited number of spaces for both boys and girls, and for each age group. For the most updated availability information, please email registrar@campomagh.org.
What information will we receive after we register?
Once your camper is enrolled in session, you will receive a confirmation email from our Registrar. Reminder emails will be sent closer to your session regarding what to bring, payments, missing forms and how to better prepare your child for camp.
​
Is technology permitted at Camp Omagh?
Like many traditional summer camps, Camp Omagh asks campers to "unplug" from technology so they can more easily "plug in" to their new camp community. By leaving technology at home, campers engage more quickly and are more poised to take advantage of the fun, friends and adventure offered by Camp Omagh. Campers develop friendships that are not dependent on social media and gaming. They grow to better understand the expressions and feelings of others. Campers remark that they notice more about their surroundings, are more creative and feel relieved of the constant pressure/stress they feel from Instagram, Snapchat and Twitter. Gadgets to be left at home include anything that requires charging or plugging in like cell phones, tablets, laptops, mp3 players, electronic games, etc.
Please note that cell phones may not be used as cameras by campers. Digital cameras are encouraged. E-readers without internet connectivity are permitted.
Can I call my child while he/she is at camp?
We ask that parents call to speak to their camper only in the case of emergency. Campers are seldom near a phone and it is challenging to coordinate calls with camper schedules. In addition, calls from home can cause homesickness in a camper or jealousy among cabin-mates. We highly encourage cheerful cards, letters and emails from family and friends throughout the session. In case of emergency, please call the camp office and we will arrange for a time for your camper to return your call as soon as possible.
Can we send care packages to our camper?
We do not allow campers to receive care packages while at camp. Camp is already full of so many good things, fun friends and engaging activities that care packages often get overlooked by campers. Additionally, receipt of care packages can result in jealousy and anxiety among cabin mates. However, campers still very much enjoy letters and cards from friends and family.
​
What happens if a camper gets homesick?
The first few days of camp can be an anxious time for any camper. We thoughtfully program these days to develop closeness within cabin groups so children feel safe and a part of the group. If homesickness persists, the counselor and director work together to help the camper work through and overcome this challenge. We may invite parent input to aid in the process. It is our deep desire that the camper stays at camp, experiences success, and develops stronger muscles of resilience and independence for the future.
How do you handle behavioral problems with campers?
Clear expectations and guidelines, positive reinforcement, wholesome role modeling and a cultivated sense of fairness are key components in our effort to maintain a safe and nurturing camp environment. We work hard so that every child will develop greater social skills and succeed at camp. Disrespect, unwholesome, mean or violent behavior, including teasing or harassment of any kind is not tolerated.
​
If discipline problems arise, we handle each conflict on an individual basis. In most cases, a camper and counselor/director will discuss the inappropriate behavior and logical, relevant consequences may be enforced. Continued misbehavior may result in a camper going home early from camp with no reimbursement. Our PeaceKeeper agreement is part of your final registration package sent prior to your arrival.

How is the food?
Nutritious, kid-friendly food is served at Camp Omagh. Campers love it and often ask for recipes. Our planned mealtimes are: breakfast, lunch, and supper. Afternoon Tuck shop offers a selection of soda pop, juice boxes, chips, freezies, and candy. Milk and cookies are offered in the evening before lights out. This is included in our camp fee.
​